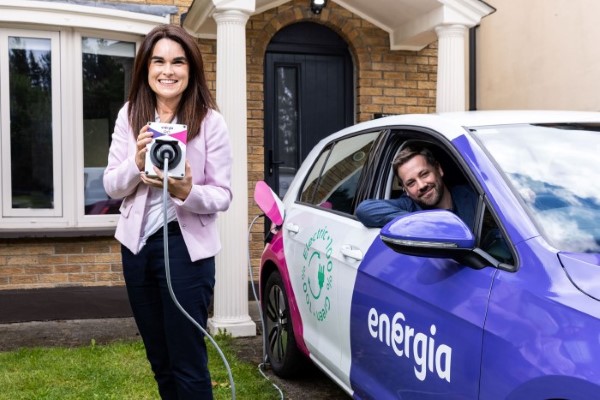 The research has found that while large numbers of EV purchasers are driven by environmental concerns (40%), almost as many are enticed by the financial savings offered by electric charging (39%).
More than half of respondents to the survey, which took place in June 2022, are paying less than €5 to charge their car, a clear illustration of the cost benefits of EVs versus traditional petrol and diesel vehicles. Furthermore, the number of people charging their electric vehicle daily has dropped by 7%, with charging 1-3 times a week the most common response.
See our stats summarised below.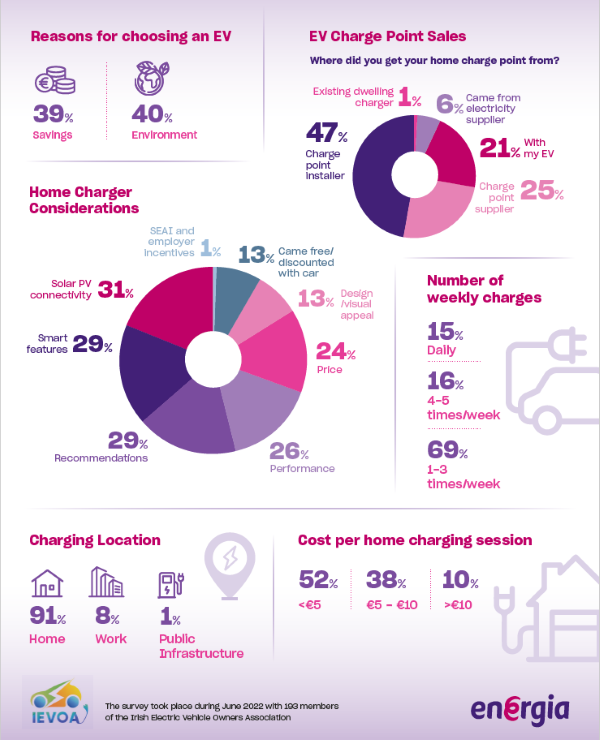 The survey also found that electric vehicle owners feel the Government is not doing enough to promote electric vehicles, with 87% of respondents stating so. Almost a third (28%) lack confidence that the government's target of 1 million EVs by 2030 would be reached. However, respondents were positive about the available SEAI grant, with nearly a fifth stating that they wouldn't have purchased a home charge point without it.
91% of respondents charge their electric vehicles at home. Free chargers, such as those provided by a third of survey participants' employers, along with range anxiety, were the main reasons stated by the 9% who do not charge at home.
In terms of charging technology, most home charge points continue to come from charge point installers (47%) despite a decrease of 19% since 2021. Being able to connect their home charge point to their solar panels was of importance to 31% of respondents, an increase of 18% since 2021. There has been a 3% increase since 2021 in those using public chargers.
Ciara Moane, Electric Vehicle Product Owner with Energia commented: "We know that the environment is the most important factor for those deciding to buy an electric vehicle, and as Ireland's greenest electricity supplier, we take pride in providing 100% renewable energy to our customers with charge points located at their home. Over the past year, the number of home charge points we have installed has increased tenfold. With one in five cars licensed so far this year being electric or plug-in hybrid, we are confident that we will see these numbers continue to grow significantly, along with the numbers of customers on EV specific tariffs. Energia's EV offers include reduced night rates and tariffs bundled with discounted home charge points. We are delighted to be energy partners with some of Ireland's largest electric car manufacturers including Hyundai, Kia, Opel, Honda, FIAT and Citroën. Energia are very proud to play our part in assisting customers to make cleaner energy choices and help them on their exciting journey to owning an EV."
Kevin Dowling, Chair of the IEVOA added: "Over the past few years we have seen the shift to EVs accelerate, and from this research we know that Irish people's deep concerns about their carbon footprint and their household running costs are prompting this. Being able to charge at home is a huge benefit for owners and alongside public transport, walking, and cycling, switching to an EV becomes low hanging fruit for households to play their part in efforts to reach net zero."
The survey took place during June 2022 and involved 193 members of the Irish Electric Vehicle Owners Association.