Press Release: Monday 5th October 2020
Power NI's Brighter Communities support programme is back in business after a lockdown break. Its new £10K funding pot is designed to help large or small community, sporting, charity, youth and all age groups build for the future and regenerate their local town, village or area.
The leading energy company, which next year marks its 90th anniversary, is looking for enterprising, sparky and impactful ideas that draw people together but require an extra injection of cash to help bring the projects to life.
The fund which opens for applications on Monday 5th October will enable ten groups across Northern Ireland to gain £1000 funding to roll out a special project in their local area.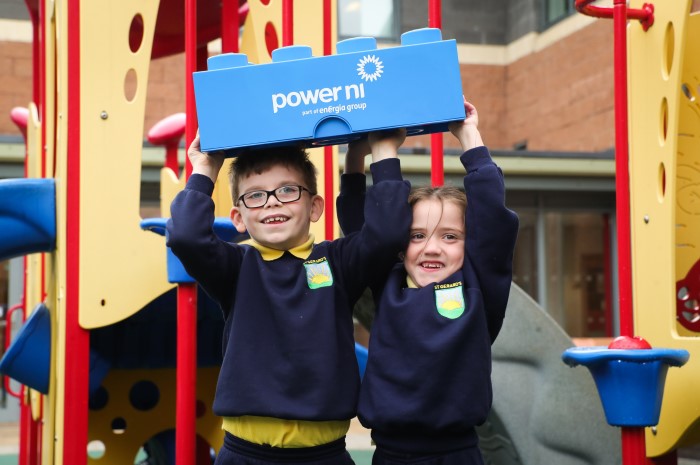 Power NI was an essential service during COVID and during the lockdown phase focussed all resources on ensuring their customers were looked after as well as investing £40,000 in communities across all parts of Northern Ireland. This support included funding for food banks, local groups creating PPE visors, masks and scrubs bags, check and chat volunteers and packs for older people. Also supported were larger charities and community organisations including Age NI, Macmillan, Advice NI, USEL, Action Mental Health and the Welcome Organisation.
Explaining the background to the new £10K funding package, Power NI's Gemma-Louise Bond says:
"We're thrilled to bring back our popular and impactful initiative Brighter Communities in this new and exciting format. We stood down Brighter Communities for several months, as community, charity and sporting groups were unable to meet up. As everyone continues to embrace the current challenges and ups and downs of work and life, this initiative aims to show some light at the end of the tunnel and help people gear up for a more positive future.
"Since Brighter Communities was launched back in April 2018, it's been amazing the range of Brighter Communities schemes we've supported. From dance, ice-skating and gymnastics groups to special schools, bee-keepers, wheelchair basketball players and also dragon boat-racers; also older cyclists, survivors of human-trafficking and lunch clubs for older people, the funding has touched every facet of our society."
A former Brighter Communities award winner, West Belfast based St Gerard's School and Support Services helped launch the £10K autumn awards programme.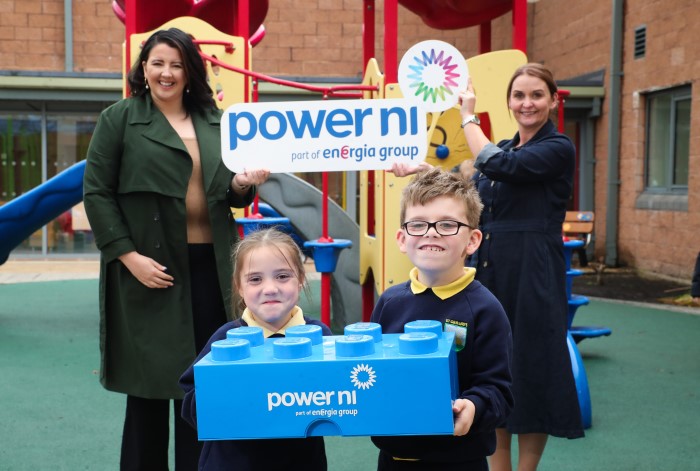 A past winner of a Brighter Communities £2,000 cash award, St Gerard's School LEGO® Club in West Belfast, was set up to help develop the STEM skills of local children and spark their imagination and creativity.
St Gerard's teacher Louise Kane (right), along with pupils Harrison and Jodie, join Gemma-Louise Bond from Power NI to launch the energy company's Autumn £10K Brighter Communities initiative.
The fund, which opens for applications on Monday 5th October and closes on Monday 2nd November at 12pm, will enable ten groups across Northern Ireland to each win £1000 to roll out a special project in their local area.
Talking about the impact of receiving a Brighter Communities funding award, teacher Louise Kane said:
"St Gerard's school and support services are absolutely delighted to have been awarded £2000 to help fund our new Lego® based therapy "Building Buddies.
"Some of our staff members attended training provided by "Bricks for Autism" and were eager to introduce the concept to our pupils, but the cost of implementing such sessions was very costly due to the price of Lego.® Thanks to this grant we have been able to purchase lots of exciting "kits" and sets that will enable our pupils to improve their social communication skills, whilst having lots of fun!"
Applications for the Brighter Communities £10K Autumn fund can be made via Power NI's website at https://bit.ly/3n4dnii.
Groups should showcase how they can implement an innovative and creative project which will change and improve their local community for the better. The closing date is Monday 2nd November at 12pm.
Full details of all criteria can be accessed online, but in summary applicants making a submission on behalf of an organisation or charity, must be over 18 and all groups should be based in Northern Ireland and have no political links. Funding will be awarded only to tangible projects and cannot be used for overall running costs or overheads.
Ends
Media contact: Rosemary Allister, JComms Tel 028 9076 0066 or mobile 07880 504928
Brighter Communities monthly award winners to date are: Olympus Girls' Club in Belfast; Portadown based Scotch Street Wheelers; Carryduff's Every Day Harmony; Derry Wheelchair Basketball Club, North West Wolves; Early Years group Little Acorns in Omagh; Dromore based charity Via Wings; Dundonald Ice-skating Club; Abbey Taekwondo; Lagan Dragons; Sound Friends and Good Morning Ballymena. Also, Clogher Valley Beekeepers' Association; Garrison Community Group; hurling club, Craobh Rua Camlocha; cheerleaders Omagh Panther's Cheer, Flourish NI, Roddensvale School in Larne, Belfast City BMX Club, Voice of Young People in Care, Realta School of Irish Dance in Newtownards, Street Soccer NI, Foyle Down Syndrome Trust. Recent 2020 winners include Ulster Hospital OT Department Stroke Recovery, Belfast Homeless Services, St Gerard's School Lego Club in West Belfast, New Town Together, Armagh and West Bann Development, Coleraine
Power NI provides 55.4% of the domestic market's electricity needs and 54.4% of the commercial market. Power NI, a local supplier for almost 90 years, supports an extensive range of local community, environmental and sporting initiatives including Volunteer Week, The Mary Peters Trust and Age NI. The company employs over 350 who are currently working from both their own homes and Power NI offices.