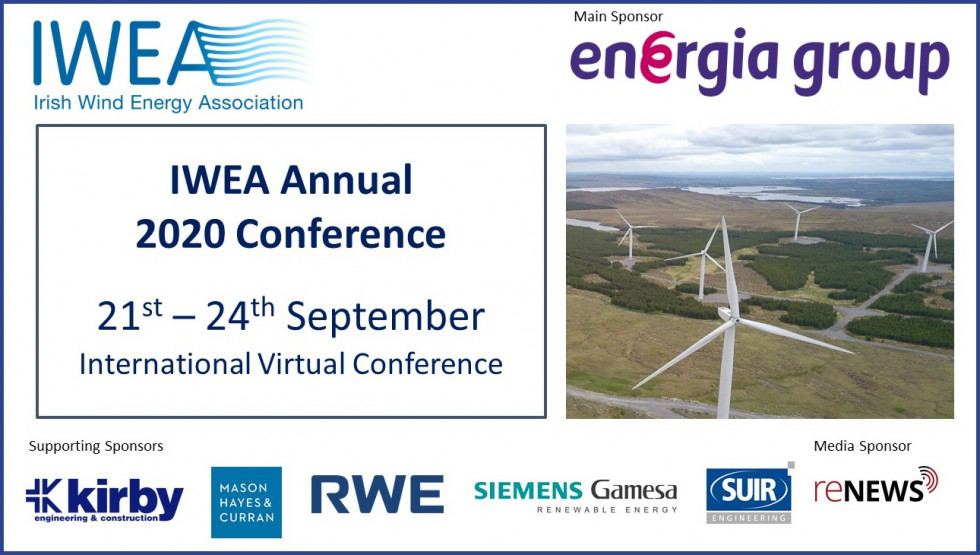 Energia Group, Ireland's leading business energy company, is pleased to be the lead sponsor for the upcoming Irish Wind Energy Association Conference. The annual conference takes place virtually from Monday 21st September – Thursday 24th September and will include a keynote address by Peter Baillie, Managing Director of Energia Renewables.
The event takes place during an important time for the Wind Energy industry, with wind energy providing almost half of electricity in the first three months of 2020. Sessions held throughout the week will examine what can be learned from the first RESS auction, the opportunity to deliver 5GW of offshore wind by 2030, how to make 30GW of wind energy for Europe a reality post 2030, and what the energy market may look like with 70% renewables. Some of Ireland's leading energy experts will feature alongside international speakers and, in keeping with current government guidelines, the event will be held entirely virtually.
Peter Baillie, Managing Director of Energia Renewables, commented: "We are delighted to be the lead sponsor for the Irish Wind Energy Association Conference. Wind power can make a crucial contribution to Ireland's energy policy objectives of securing diverse and sustainable supplies of energy. At Energia, in our positive energy programme we are committed to investing €3bn in renewable energy over the next 5 years. Our substantial investment in wind energy in recent years has already resulted in 25% of Ireland's wind power being provided through Energia. There is enormous potential for onshore and offshore wind energy, solar, battery storage and green hydrogen production on the island of Ireland and I am looking forward to hearing the thoughts of my fellow contributors throughout the conference."
Registration for the conference is not open with a full schedule to also follow. You can register for the event from the link below.
>>> www.iwea.com/events/3190-iwea-2020-conference
More information is available on www.iwea.com