At Energia Group we are proud to lead the way when it comes to delivering sustainable and responsible energy solutions in Ireland. We already deliver over 20% of Ireland's renewable energy, and we continue to expand our portfolio of wind farms and other renewable energy sources.
We're also working with our partners in Translink to power public transport with zero emissions hydrogen fuel cells, hydrogen generated from wind energy during times of low demand. And we're always looking for ways to help our customers reduce their energy consumption and move to cleaner, greener forms of energy.
So in the same spirit we're in the process of moving our entire fleet to electric vehicles.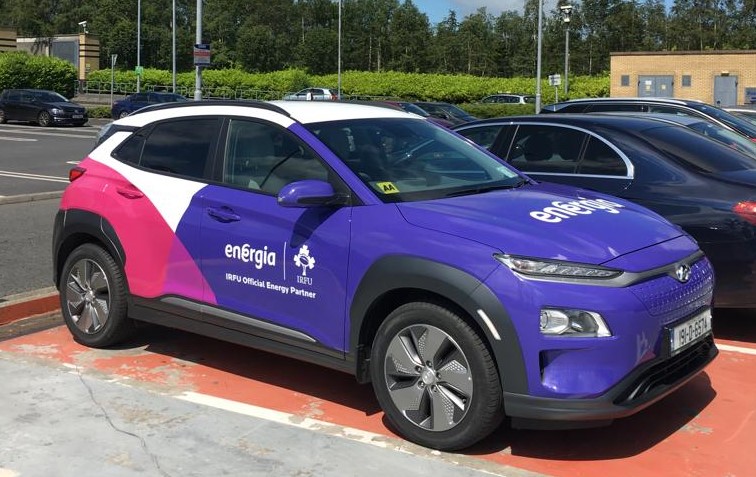 As the percentage of electricity in the grid from renewable sources continues to increase, migrating from internal combustion engines using fossil fuels, to cars and vans powered by clean electricity becomes perhaps the single greatest change we can make to help guarantee a cleaner, greener and sustainable future.
As of 2019 every new company car we buy is an electric vehicle. And as technology improves we aim to move an increasing proportion of our maintenance vans – which have to travel long distances in more remote areas - to electric.
Eimear Coll, an Energia Key Account Manager located in Dublin, took collection of a Hyundai Kona company car earlier in the year and has not looked back. "The car is a pleasure to drive in the city, but with the range of modern electric cars and an increasingly comprehensive charging network it's also no issue at all to travel throughout the country. With a charging point installed at home I hardly need to consider running out of power.
"Obviously it's cheaper to run, but most important to me is the feeling that both Energia and myself are doing something to reduce the use of fossil fuels, combat climate change and cut down on pollutants and emissions in the environment."
Energia Group is 100% committed to playing our part in the transition to a cleaner, greener future. Our move to electric cars is just one aspect of a company-wide commitment to look closely and carefully at every aspect of the way we use energy within the organisation. Spearheaded by our internal 'Green Team', we are always finding ways to save energy and thus play our part wherever possible.
The Green Team took an active role in our recent Dublin office move to our new HQ in Blanchardstown, helping to ensure the building is as energy efficient as possible both in terms of monitoring energy usage and installing technology solutions such as automated low-energy lighting to reduce our overall footprint.