2020 was the 5th year of Energia's partnership with GIY and we saw the co-development and delivery of a re-freshed, re-branded and re-ally successful Energia Get Ireland Growing.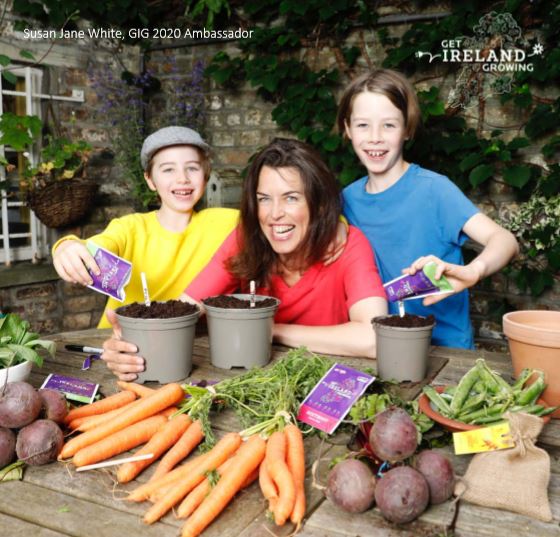 Together we helped thousands of households across Ireland turn good intentions around sustainable living into action with immediate results through our annual call to action –Get Ireland Growing.
The campaign's primary objective is to inspire people all over Ireland to power a more sustainablefuturethrough the simple but hugely impactful act of growing food. The campaign centred around an open invitation to households of all shapes, makes and sizes to Get Ireland Growing and be in with a chance to win one of the 1,000 bespoke Energia branded GROWBoxes, a massive give away valued at €45,000 –and each one filled with everything a family needs to grow five of the nation's favourite veg.
Building on the home focused activation, and as a reference to the network of Community Growers engaged in previous years of the campaign, Energia and GIY also gave away food growing prizes to the value of €10,000 including eight Community GROWBoxes (one-of-a-kind seed libraries), eight VegTrugs and two community gardens.
Some GROWBox Experience Testimonials
"I wasn't a gardener before lockdown, but the GROWBoxreally spurred me on!"
Evelyn Phair, GROWBox winner

"Since winning my GROWBox, I've built a veg box from reclaimed pallets.Planted my seeds using labels from yogurt cartons, carrots, basil, beetroot,peas and mixed salad leaves. Collected dried seaweed for my veg gardenfor mulch and feed. Discovered we have a hedgehogliving in our garden."
Niamh Becton, GROWBox winner

Energia Get Ireland Growing was first launched in 2016 to promote community food growing projects nationwide. Through this initiative, Energia has supported 257 community groups with grants totalling €220,000 (from 2016-2019). The recipients include schools, NGOs and Not for Profits, community gardens and allotment groups, GIY groups, hospitals, crèches, direct provision centres and men's sheds all across the country.
We look forward to growing, strengthening and evolving our partnership with GIY even more as we look to a bright 2021! For more information you can check out the website at: www.getirelandgrowing.ie