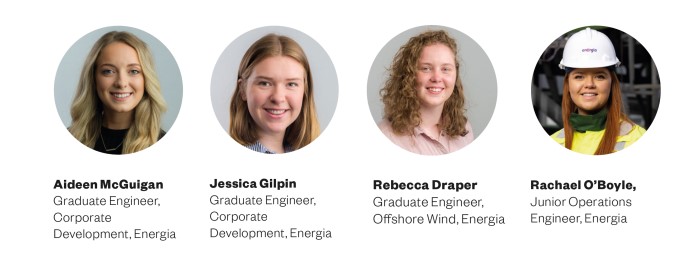 Press Release 30th September 2022
Original Article by Sarah Brown in the Irish Independent
What are some of the key projects you're working on
Rachael: I have been with Energia for over two years. I recently completed their graduate programme where I spent eight months in three departments — renewables operations, flexible generation and the renewables construction team. I then applied and was accepted for a full-time position in the renewables operations team as a junior operations engineer. I really enjoy being part of an expert team working on exciting projects across Ireland.
Rebecca: I'm part of the offshore wind team in Energia Renewables, where I have been working with the Offshore Environmental & Consents Manager and the Offshore Project Engineering Manager. I've been fortunate to experience and learn from the team in Offshore Renewables. I've learnt a lot about engineering, the environment and renewable energy technologies, including the transition to renewable energies and the benefits they can offer.
Aideen: I've been incredibly fortunate to work alongside a team of such talented individuals. Throughout my year in Corporate Development, I have been involved in many different projects including solar and hydrogen, but I mainly focus on decarbonising the transport sector. After six months into the graduate programme, I was delighted with the opportunity to project manage our EV Software Pilot. This opportunity provided me with great responsibility as this role involves engaging and coordinating with multiple internal and external stakeholders. I will be moving into the offshore wind team, and I am excited to have the opportunity to experience various aspects of the company.
How is the programme helping to shape your career path?
Rebecca: I have a degree in Sustainable Energy Engineering, and due to the broad nature of my degree, I wasn't sure where I wanted to start my career. So, a graduate programme that offered experience in different areas would suit me perfectly. What I have found is that everyone is very approachable. They are always excited for you to get involved and be an active participant in the company so that you can learn from experiences outside of your role, like site visits.
Jessica: While studying Energy at university, my exact career path was unknown to me in this broad sector. The graduate programme has been the perfect opportunity for me to move around the company and experience different roles. It's given me a wider range of opportunities to work in, rather than one role. Senior management has been brilliant in pushing me towards furthering my professional development. I am able to collaborate with internal teams including finance, corporate communication and business financial modelling.
What development opportunities have you received?

Aideen: The graduate programme with Energia Group has been brilliant as it has allowed me to meet new people from various parts of the company. As part of the programme, we're given a mentor. This is a manager or experienced individual from another department within the company that can provide us with additional guidance, advice and support. They also offer various programmes to build our support networks such as our Women In Energy Network.
Jessica: I was handed projects right from day one that allowed me to take on huge responsibilities. Through this fast-paced environment and hands-on learning, my skills
developed entirely with the support of my managers. Focusing on the decarbonisation of transportation, senior management has always encouraged me to continue my learning through industry-led webinars and workshops tailored to the projects I am working on.
Rachael: Through the graduate programme, I have gained invaluable experience in multiple departments and now have a better understanding of the renewable energy industry. There are opportunities for both career and personal development. We are provided with a tailored
development programme throughout our rotations. They encourage attendance to industry workshops and relevant courses for personal and professional development.
Original article source: Finding the ideal career fit for the varied sector of energy transition - businessnews.ie