As a modern customer-centric utility, everything we do at Energia Group helps underpin the quality of life for people across the island of Ireland. But beyond powering homes, businesses, hospitals, schools and every street light on the island, we are also committed to helping communities directly wherever possible.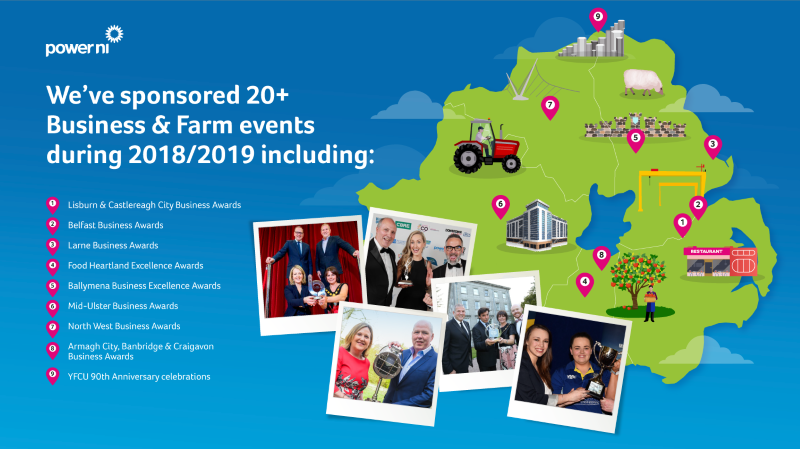 In Northern Ireland, our subsidiary Power NI has a legacy going back over 80 years of supporting communities, farms and businesses across the country. That continues today. Our Brighter Communities program provides direct funding to community, sporting, youth or charity organisations right across the country, from ice skating in Dundonald to Taekwondo in Abbey – with a huge range in between.
In business, we support organisations such as the Northern Ireland Chamber of Commerce and Women In Business, and the programs they roll out to help our vibrant business community expand and continue to be at the forefront of business excellence.
As Stephen McCully, Managing Director of Power NI explains "after 15 years of competition we remain the largest supplier to the business sector with over 30,000 SMEs on our books, therefore we're thrilled to support our vibrant local business community and show our support for these organisations.
"It dovetails perfectly with current regional business awards partnerships in Ballymena, Belfast, Lisburn & Castlereagh, Armagh Banbridge & Craigavon and the North West. Inspiring success and innovation are key business values for us and it's important for Power NI to play our part in supporting future industry and commerce."
Energising Local Farming Communities
Meanwhile Power NI remains dedicated to ensuring we remain the natural choice for the Northern Irish farming community. We're proud of that role. Thanks to our history we believe no other supplier understands the needs of the farming community the way we do. Certainly no supplier has more farming customers in Northern Ireland. We offer dedicated farm energy tariffs to our customers and have strong relationships with organisations across the agri-food industry.
Power NI is an affiliate member of the HSENI Farm Safety Partnership, and we help them to promote their Farm SAFE campaigns to our customers. We also recently acted as principal sponsor of the Food Heartland Awards and we have partnered with the Young Farmers' Clubs of Ulster for their 90th Anniversary year celebrations.
"We work closely with members of the farming community", says Stephen McCully, "and it isn't just about conventional supports and price plans. We're also working with the community with power purchase agreements that enable farms to sell renewable energy to the grid and by doing so reduce bills and help us all meet our climate and sustainability targets".