Press Release: 5th July 2021
Irish energy provider, Energia, and Galetech Energy Developments (GED) have announced that the final layout of the proposed Seven Hills wind energy development in south Roscommon will be available online for community review and engagement.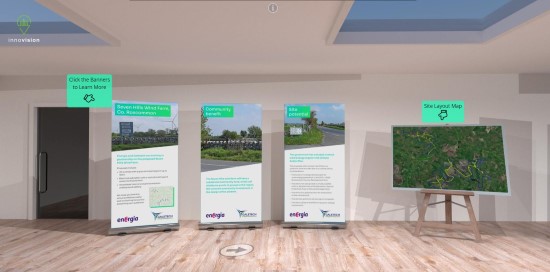 The plans, which now include up to 20 turbines – one fewer than originally proposed – can be viewed at www.sevenhillswindfarm.ie, where an online exhibition is available.
In light of the current and ongoing COVID-19 restrictions and guidance, this platform will create a 'virtual village hall' enabling users to click and view information banners, photomontages, maps and information on community benefits and the planning process.
Users of the platform will also be able to leave feedback and contact the Energia and GED team for further information.
A brochure will also be available to download. This will be delivered to residents living within a 2km radius of the proposed site, near Dysart.
A spokesperson for the Seven Hills project said, "This is an important milestone for the project as we are now in a position to share the final proposed layout of turbines with the local community. The launch of the virtual exhibition platform is the culmination of months of public consultation and survey work, and we would like to thank all those who have contributed.
"Members of the public can view the proposed layout of the 20 turbines and find out more about the development and planning process. As part of our ongoing consultation activities, anyone wishing to contact the project team for further information can do so via our freephone number on 1800140232 to request a call back."
"Subject to Covid restrictions, we would like to hold face-to-face clinics by appointment to discuss our amended site layout and answer residents' questions before a planning application is submitted. We will follow public health guidance and update the local community if these sessions can go ahead."
The Seven Hills wind energy development will potentially consist of up to 20 turbines with a typical output of up to 6MW per turbine - capable of generating enough green energy to power nearly 85,000 Irish homes.
The Seven Hills wind farm will also provide a substantial community benefit fund to help support local community projects, taking account of local needs.
Energia is one of Ireland's leading and most experienced renewable energy providers and has a strong track record in providing best practice community benefit schemes. The full scheme will be operational in the first year after the windfarm commences operation and an initial scheme would apply during construction.
GED is part of the wider Galetech Energy Group, based in Co. Cavan, with branches across the island of Ireland. The Group specialises in development, planning, construction, operation, and maintenance of renewable energy projects in Ireland and currently employs over 100 people and operates over 350 wind turbines.