Energia have recently released their latest digital innovation project and we're looking forward to sharing it with our customers.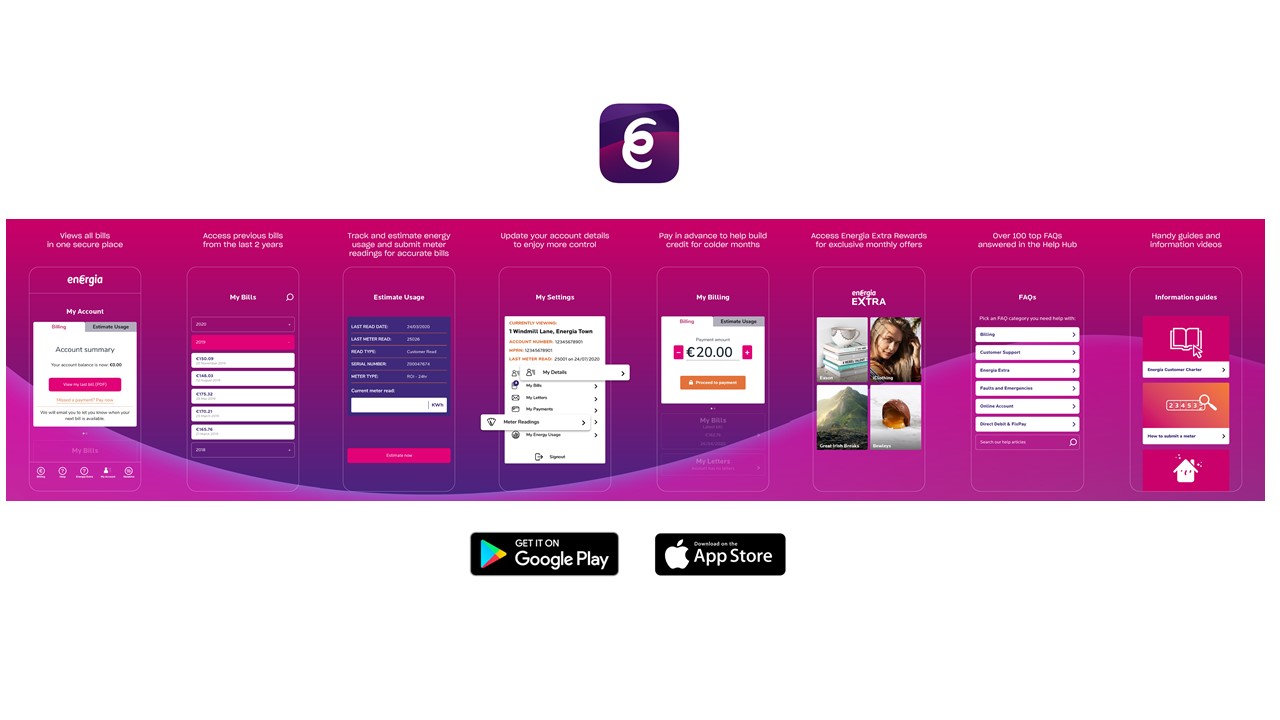 The Energy Online app is now available on Android and iOS.
Energia's Energy Online app together with our sister company Power NI's Energy Online app, are both built on a common code base on One Digital Platform – Energia Group's new IT architecture that ensures a smooth roll out and robust delivery of digital web based projects.
With the Energy Online app, customers can carry out a variety of essential tasks and benefit from new features.
✅ Easily access (through biometrics) and view all bills for the last 2 year period, estimate usage and submit meter readings
✅ Update account information and personal details
✅ If not on direct debit, customers can make payments easily towards bills or top up their account with credit to plan ahead for winter months
✅ Personalise marketing contact preferences
✅ Enjoy Energia Extra, the Energia Rewards Platform, through one quick single sign-on
✅ Monitor energy usage, understand and compare against other similar households
✅ Browse the Energia Help Support Hub which has an abundance of video content, handy guides and tailored FAQs around topics which we know our customers need answers for.
✅ Avail of exclsuive customer-only monthly offers for the Energia Smart Home Store and our Cosy Homes services.
The app development framework uses new code and technology designed to enhance the customer experience, providing a faster and more intuitive journey through the platform. We have even more exciting plans for new features and functionality for the Energy Online app which we'll be releasing on a monthly basis going forward.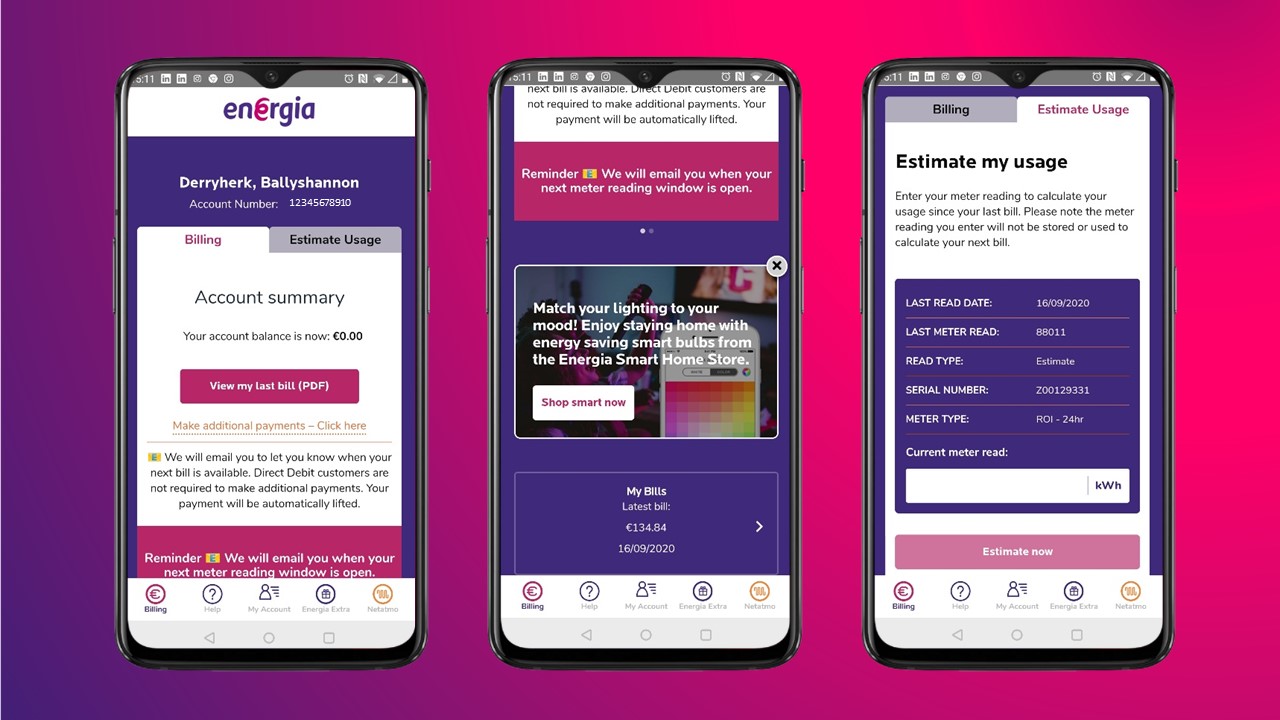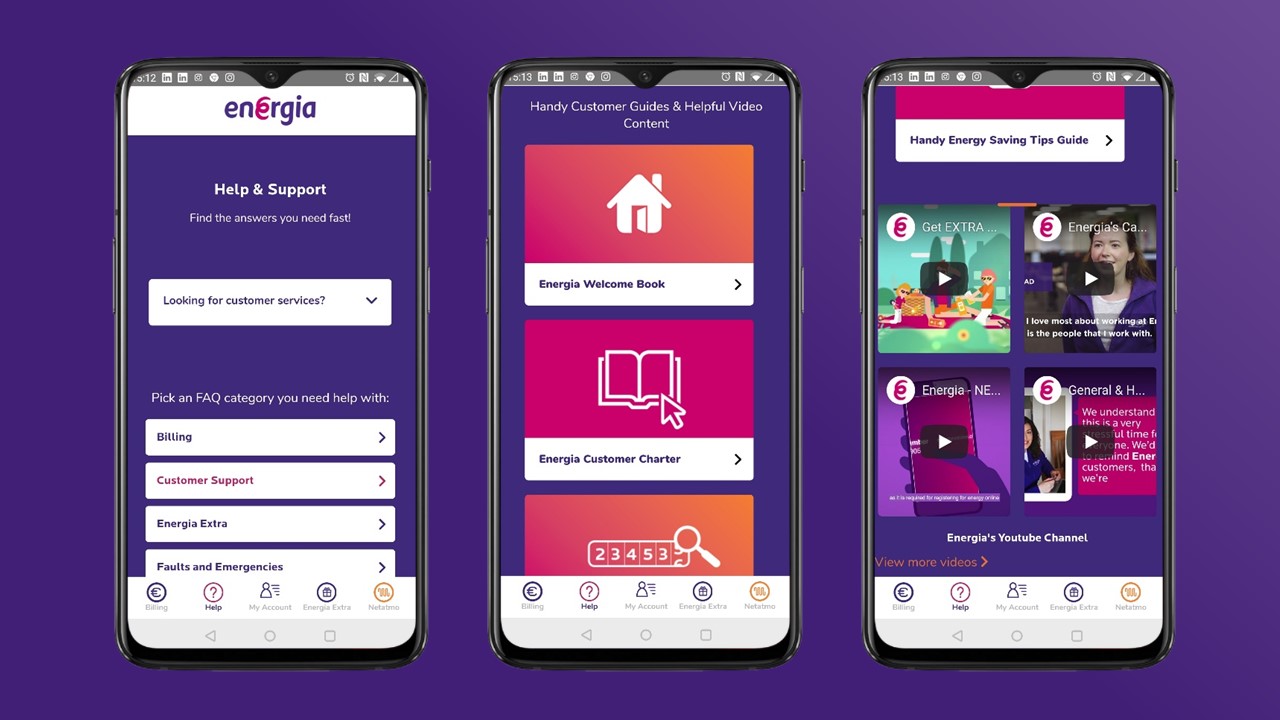 Maria McCabe, Digital Product Manager for Energia comments on the latest addition to Energia's digital portfolio:
"The Energia Online app will provide a more insightful experience, allowing our customers to take charge of their relationship with energy. At Energia we are passionate about providing a renewable, greener future for Ireland. Ultimately, this app and our other digital platforms aim to make energy interesting, so we as humans can have less impact on the planet, feeling connected and confident that we're doing our bit."
Ross O'Mullane, Energia Digital Manager, adds;
"Innovations within this industry leading app - like being able to manage your smart thermostat and estimate usage - are unique in the Irish market and are sure to make our customers even happier. This is yet another example of how we're dominating the sector by putting the customer at the centre of all our technology and innovation solutions."
Download the Energy Online app now from the Google Play Store for Android devices.
Download the Energy Online app now from iTunes for Apple iOS devices.